In this page we try to keep you up to date with news and events about the Trust and Scholars.
2021 – 2020 scholarships presented at Government House after Covid delay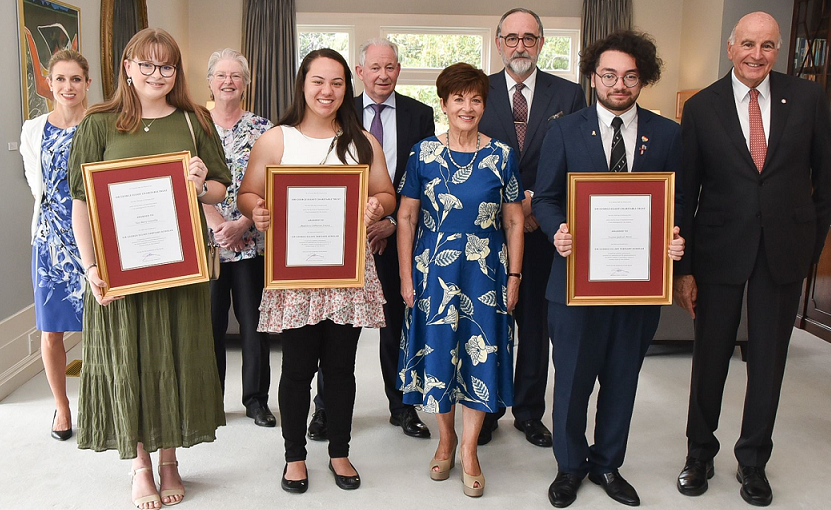 Scholarships were present by the to Elliot Scholars Tess Connolly, Tristan Mona and Madeleine France at a February 2021 ceremony presided over by Governor General Dame Patsy Reddy in this the last year of her five year term. Her Excellency was generous in her praise of the scholars, and also of the Elliot Trust's scholarship programme, one of the most effective in advancing higher education that she has seen during her tenure. Having been delayed by the impact of Covid on the Vice Regal schedule for 2020, it was very lucky that the presentation went ahead as it did, because two days later Auckland went back into Alert Level 3! Pictured above are (from left to right), Trustee Bronwyn Heath, Scholar Tess Connolly, Trustee Joy Eaton, Scholar Maddie France, Trust Secretary Lewis Grant, HE Dame Patsy Reddy, Trust Chair Geoffrey Clews, Scholar Tristan Mona and HE Sir David Gascoigne.
2020 – Inaugural Elliot Fellowship to be awarded in 2021
The Elliot Trustees have established the Sir George Elliot Fellowship, the first award of which is being planned for 2021. The Fellowship recognises an outstanding contribution by a former Scholar in their chosen field of endeavour or to their community since receiving an Elliot scholarship. It will normally be presented to someone whose scholarship was awarded more than 10 years previously. The Fellowship will be awarded from time to time at the discretion of the Trustees. Potential candidates will be invited to make a submission in support of their candidacy, which will be peer reviewed. The Fellowship will carry with it a substantial monetary grant and it is hoped that the inaugural award will be made by the new Governor General at the 2021 scholarship presentations. For more information about the Fellowship, click here.
2020 – COVID 19 delays 2020 scholarship presentations
The lockdowns of 2020 and other Covid-related disruption has meant that the Governor General's schedule for the year has been greatly disrupted. Because of that, the 2020 awards of The Sir George Elliot Tertiary Scholarships at Government House have been postponed until February 2021. The 2020 scholars, Madeleine France, Tristan Mona and Tess Connelly (pictured left to right, below) were welcomed as Elliot Alumni at the annual scholars' luncheon on 4 December and we look forward to the formal presentation of their awards in the New Year.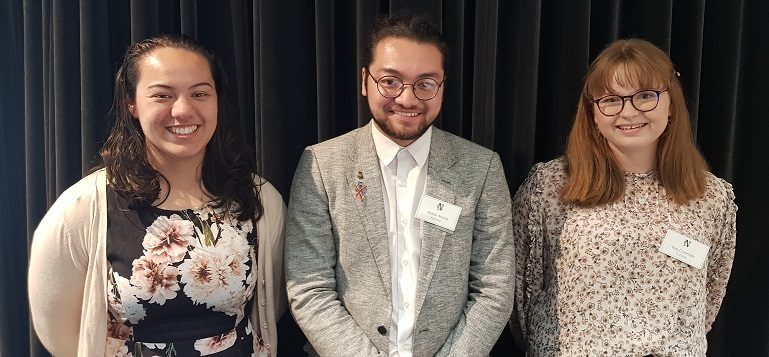 2020 – Emeritus Professor Dr Stuart Middleton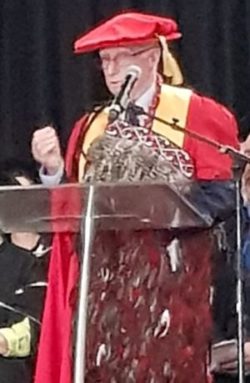 Trustees noted with pride the appointment in November of Elliot trustee, Dr Stuart Middleton, as Professor Emeritus at Manukau Institute of Technology ("MIT"). Stuart's long involvement with MIT, and higher education generally, makes this recognition particularly appropriate and the Trustees congratulate him on the appointment.
2020 – Sharon Cornwell thanked for her service

At their first meeting for 2020 the Trustees of the Elliot Trust welcomed Sharon Cornwell (front row second from the left) to lunch and thanked her for her many years of service as the Trust's administrator. Sharon left that role last year and now heads a newly created estates team with an Auckland law firm. Sharon is a great fan of Pandora jewellery and the Trustees presented her with a charm for her bracelet. The charm is a crystal encrusted owl, signifying wisdom, wearing a graduation cap to recall the many scholars Sharon has helped in her time with the Trust.
The Trustees also marked the retirement from the Board of Neha Patel (Elliot Scholar of 1999, front row third from the right) and the appointment as a new Trustee of Bronwyn Heath (Elliot Scholar of 2003, front row, second from the right).
2019 – Three outstanding young women are awarded the Elliot Tertiary Scholarships for 2019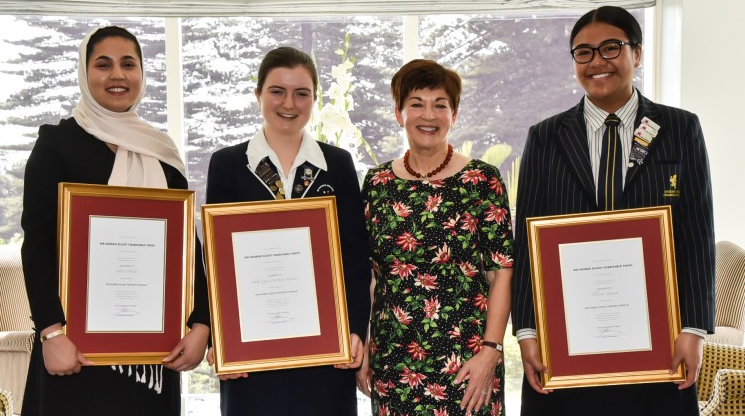 At a ceremony at Government House on 29 November 2019, Her Excellency Dame Patsy Reddy awarded the Elliot tertiary Scholarships for 2019 to Zhara Habibi from Mangere College, Sarah Poulter from St Mary's College and Nellina Vaovasa from Auckland Girls Grammar, pictured above (left to right) with Her Excellency. Our congratulations go to the newest members of the Elliot Scholarship alumni.
2019 – New Trustee appointed to the Elliot Trust
Educationalist and expert in youth mentoring, Joy Eaton, has joined the Board of the Sir George Elliot Charitable Trust. Her appointment was confirmed at the Board's October 2019 meeting. Joy started her career in education as a geography and social studies teacher at Tangaroa College and then held a number of senior management roles in mid-low decile schools, including four years as principal at Henderson High School in West Auckland. More recently, Joy has been actively involved in environmental education and has continued to support community work with an interest in youth mentoring, teen parent education and the issues of deprivation that create barriers to school attendance. She is General Manager of the NZ Youth Mentoring Network.
2019 – Elliot Scholar Ruby Porter's debut novel is published to rave reviews

Ruby Porter received an Elliot Scholarship in 2010 having been nominated by her school, Northcote College. She is a tutor of creative writing at the University of Auckland. She has been published in Geometry Journal, Aotearotica, Spinoff and Wireless, and a selection of her poetry is available on NZEPC. In 2018, she also won the Wallace Foundation Short Fiction Contest.
Her debut novel Attraction was launched in May 2019 and has been described as a meditative novel of connection, inheritance and the stories we tell ourselves. In lyrical fragments, Ruby is said to explore what it means to be and to belong, to create and to destroy. Her work won the 2018 Michael Gifkins Prize for unpublished novels.
Jon Page, reviewing for Text Publishing, wrote: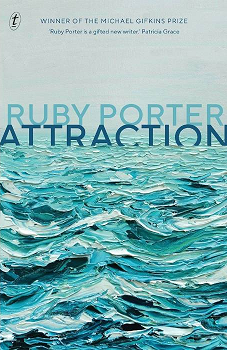 "The present reckons with the past in Attraction, Ruby Porter's atmospheric debut novel.
"Three women are on a road trip, navigating the motorways of the North Island, their relationships with one another and New Zealand's colonial history. Our narrator doesn't know where she stands with Ilana, her not-quite girlfriend. She has a complex history with her best friend, Ashi. She's haunted by the memory of her emotionally abusive ex-boyfriend. And her period's now weeks late.
"Attraction is a meditative novel of connection, inheritance and the stories we tell ourselves. In lyrical fragments, Porter explores what it means to be and to belong, to create and to destroy.
"[Porter's] writing has the intensity of Sally Rooney, the rawness of Andrew McGahan's Praise and 1988 but is also distinctly original…[A]n utterly amazing debut."
Ruby will be guest speaker at our annual scholars' luncheon in December.
2019 – Elliot Scholar Stallone Vaiaoga-Ioasa's third feature film premieres in Auckland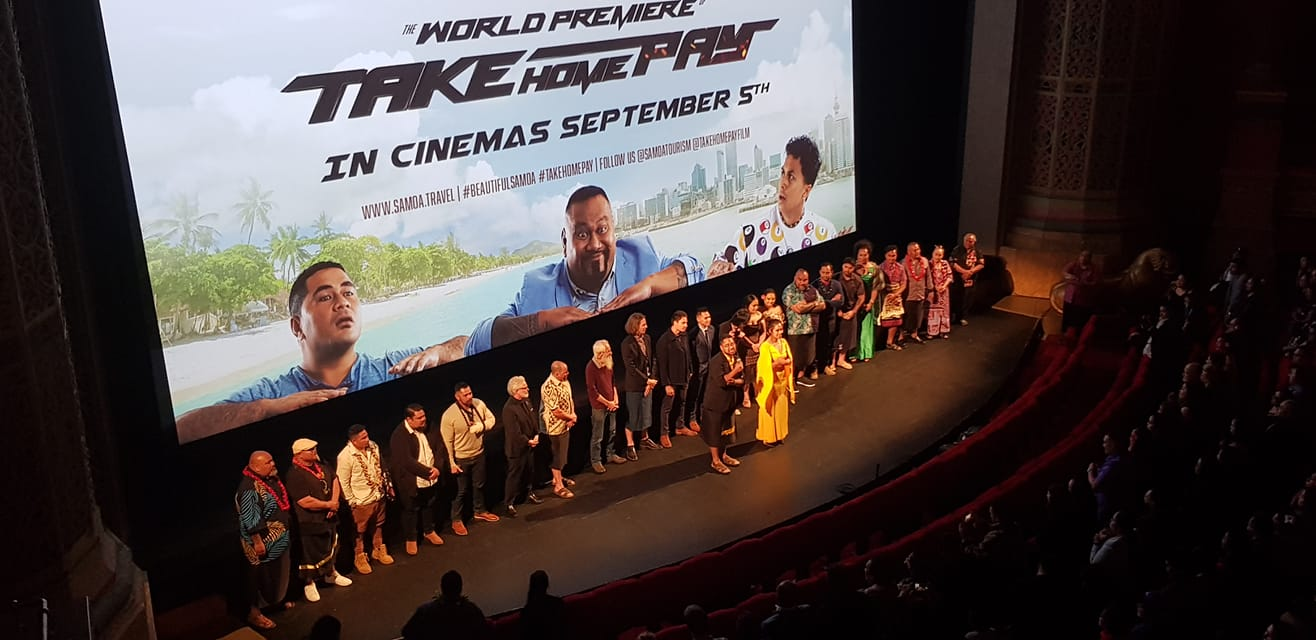 The World premiere of Take Home Pay, written and directed by 2002 Scholar Stallone Vaiaoga-Ioasa (aka SQS), was held at the magnificent Civic Theatre in Auckland on 25 August 2019. The premiere was attended by 1300 people, including Elliot Trust Chairman, Geoff Clews and Trustee, Bill Gavin and their wives. Stallone has made a point of including the Elliot Trustees in all of his celebrations and we are very proud to have had a small part in allowing his prodigious talent to flourish. In the shot above, cast and crew take well deserved applause at the conclusion of the premiere.
To read more about Take Home Pay, check out the film's NZ On Screen page here.
2019 – Elliot Scholar Pania Newton continues her campaign to prevent development of Ihumatao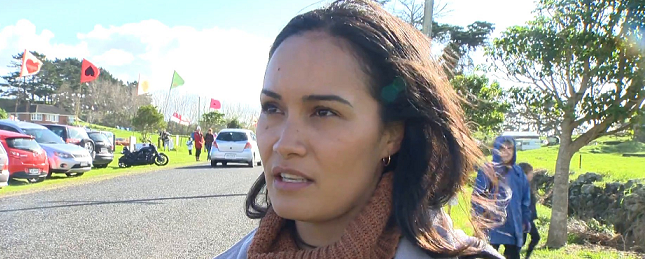 2008 Scholar Pania Newton has been at the forefront of protests aimed at preventing development of land at Ihumatao in Auckland. The land is part of the adjoining internationally and nationally significant cultural heritage landscape, confiscated from mana whenua in 1863. The Crown granted the land to a settler family, whose descendants sold it to Fletcher Building Limited in 2016. Pania claims a twenty-eight generation connection with the land that is earmarked for residential development. She has taken her protests as far as the United Nations and has brought to this campaign the tenacity and resolve that made her a leader in her community at a very young age.
To read more about the campaign to protect Ihumatao, click here.
2019 – Changes to the Board of Trustees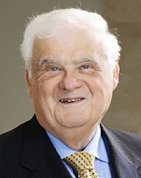 After having led the Trust Board of the Sir George Elliot Charitable Trust for sixteen years, Sir Ian Barker stood aside from the chair in May 2019 and longstanding trustee Geoff Clews was elected in his stead.
We thank Sir Ian for his leadership and commitment to the Trust. He will continue to serve as a trustee for the remainder of 2019 and will then retire, upon the appointment of a new trustee. The search for a new trustee is under way now.
To read more about Sir Ian's distinguished career as Judge and arbitrator, click here.
2019 – Elliot Scholar Stallone Vaiaoga-Ioasa's new movie under way

Titled Take Home Pay, 2002 Elliot Scholar Stallone Vaiaoga-Ioasa (left of picture with collaborators on his film) has his third feature film in production. According to the Samoan Observer, the film follows two brothers, Popo and Alama on their first trip to New Zealand on a seasonal work scheme picking kiwifruit. But before the job is done, Popo makes off with the money they earned, leaving Alama to enlist a distant relative and aspiring private investigator Bob Titilo to track him, and the money, down.
If this anything like Stallone's other films, it will be a riot! To read more about Take Home Pay, click here.
2018 Elliot Scholars Presentation
The presentation of the 2018 Elliot Scholarship awards occurred at a gala dinner hosted by the Governor General Her Excellency Dame Patsy Reddy and Sir David Gascoigne at Government House in Auckland. The event marked the twentieth year in which the Elliot Scholarships have been awarded. We congratulate all our scholars from the past two decades and especially acknowledge our 2018 scholars: Matthew Manukuo of Avondale College, Nicole White of Mahurangi College and Jennifer Thonrithi of Southern cross Campus, seen below (l to r)  with Dame Patsy and Sir David. To see more pictures from the event at Government House, click here.

2017 Scholars Presentation
Congratulations to our 2017 scholarship winners: Ishwanka Sharma from One Tree Hill College, Saskia Whitson from Baradene College of the Sacred Heart and Tevita Uilou of St Paul's College, seen here (l to r) with Governor General Dame Patsy Reddy at the presentation awards. To see more pictures from the presentation event, click here.

2016 Scholars Presentation
Well done to all the 2016 scholarship winners. The event was held at Government House in Auckland in November. Pictured below are our scholars, their school Principals, Elliot Trustees and the Governor General Dame Patsy Reddy and Sir David Gascoigne. Our 2016 Scholars are Isabella McPhee (2nd from left), Christopher Stewart (4th from left) and Sofia Manai (4th from right).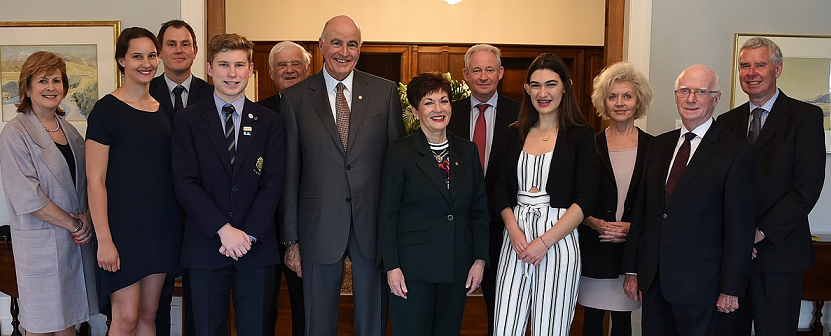 60th Anniversary of the Trust
July 2016 marked the 60th anniversary of the Sir George Elliot Charitable Trust. To celebrate this occasion the Trustees invited all scholars and their partners to a dinner to mark the occasion. The event was held in the McElvie Gallery at the Auckland Art Gallery, which provided a very special backdrop for our evening. All present stood up straight for a group shot of the event!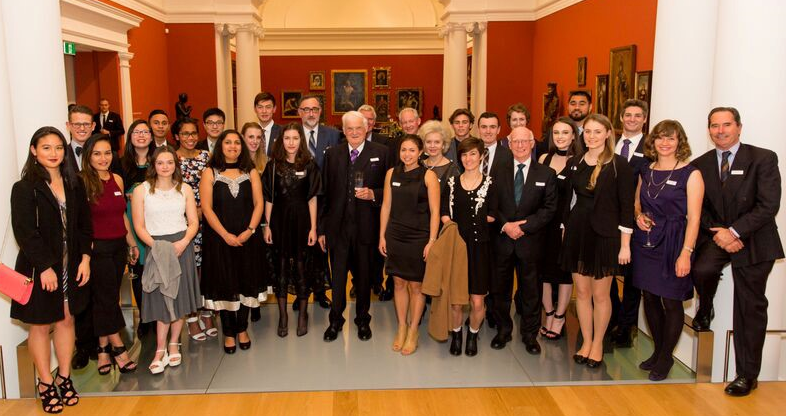 2015 Scholars Presentation
Our 2015 Scholars received their awards at Government House in Auckland from the Governor General, His Excellency Sir Jerry Mataparae. Pictured below are the presentations to (l to r) Paige Boyed of Birkenhead College, Louis Abplanalp of Westlake Boys College and Charles Salt of St Peter's College. Congratulations to you all.